On the work bench: The Serpula – a tapered transmission line loudspeaker

Boundary-mounted Loudspeaker System
Above: a sketch of the enclosure of this new design.
The name Serpula derives from a genus of calcareous marine tubeworms. It was chosen to indicate the fact that this entire range of loudspeakers has been optimised for mounting against a boundary or wall. The first example was an event loudspeaker, aimed at professional sound reinforcement. It has been followed by a range of similarly styled designs for high-end home audio use. Construction materials for the top, face and back comprise a laminate of solid 25mm Padauk with MDF, and the sides are made of similarly reinforced OSB. The downward-tapering geometry is purely functional and a set of two carefully selected drivers, one a fullrange unit and one a supplementary low-frequency driver, will complete the picture. Features include full-range operation from 100Hz to 20kHz, with bass extending to under 40Hz at ± 3dB, sensitivities ranging from 91dB/2.83V to 97dB/2.83V at 1m, 40W to 350W noise power handling, an easily driven load impedance, and a minimal first-order filter network.
RRP = R33,886.00 (for the standard model – RRP is calculated according to size, driver choices and build details, and may vary)
Freshly off the design bench: The Serpula SESSS - a wall-mounted transmission-line/reflex enclosure hybrid.

Wall-Mounted Stereo Audiophile Loudspeaker System.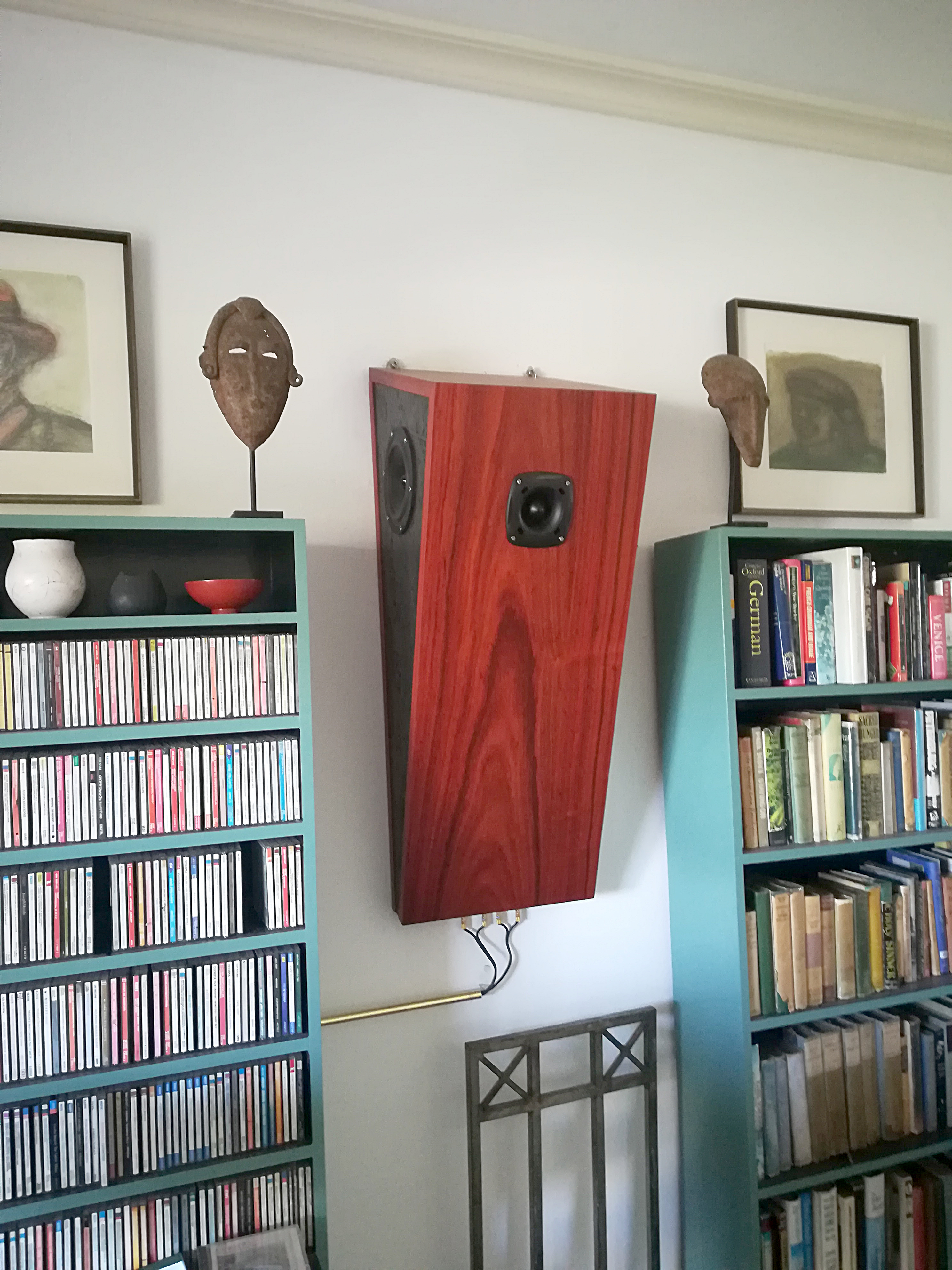 Above: the prototype of the new Serpula Single-Speaker-Stereo loudspeaker, installed in a client's lounge.
As second offering from our new per[form] stable, the new Serpula design is a hybrid of a short-taper tuned pipe and a standard reflex enclosure. The German-designed high-end fullrange driver uses the tuned pipe character of the enclosure to firm up its lower frequency response and excursion characteristics, while the American- or Italian-designed audiophile low frequency driver, which only operates at full efficiency between around 40Hz to 150Hz, uses the reflex characteristics of the enclosure to firm up its low-frequency response. A high-quality, low-slope, first-order serial crossover filter assures immaculate integration of the two drivers.
The loudspeaker is made to be mounted relatively high up against a wall – this is as much a concession to space considerations as to inevitable boundary fall-off in modern, smaller home spaces. Simulations have indicated that this configuration not only has a positive effect on the sound character of the fullrange driver, but is substantially advantaged by the low frequency boost that accompanies the placement of a loudspeaker against a boundary. The upward-firing low-frequency driver (in case of the stereo set) augments this boost effect by acoustically coupling with the ceiling.
The design employs solid hardwood for the face, back and top of the loudspeaker, and an OSB/MDF sandwich for the sides. 25mm of solid Padauk wood, reinforced with a 9mm layer of MDF, was employed in the example above.
The loudspeaker has been tested with a range of drivers in various cost brackets and performs exceptionally with all of the drivers we have selected. This not only allows customisation, but makes possible an entry-level model of this hugely enjoyable and musical loudspeaker.
RRP = R19,210.00 (for the standard model – RRP is calculated according to size, driver choices and build details, and may vary)